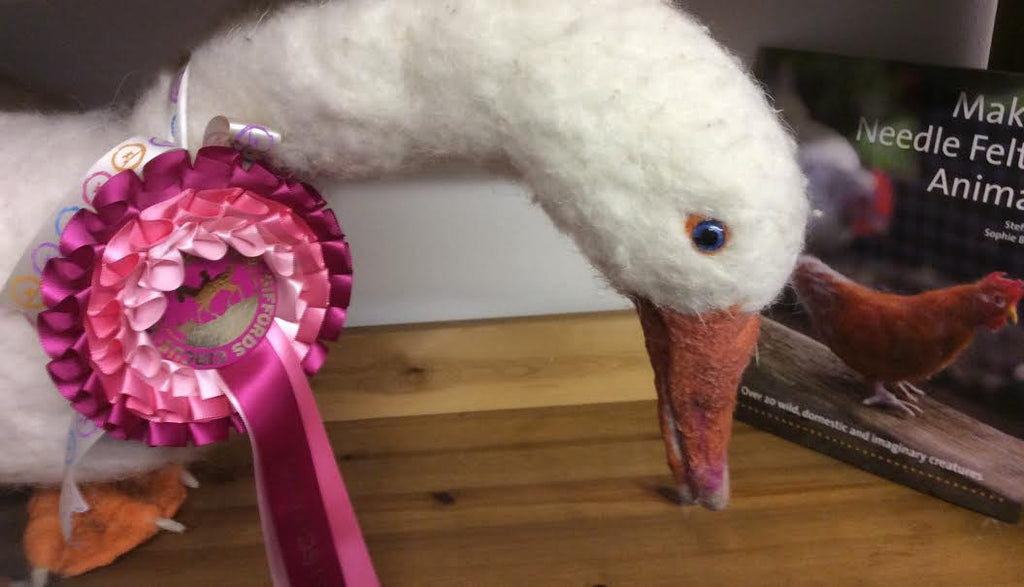 How Brian the Goose came to be!
Our Brian is a life size white goose who is a pet portrait of a real circus performing goose who belonged to a local circus called Gifford Circus. (well worth a visit!)
Said goose had sadly passed away and our needle felted goose is in memory of the real Brian the Goose.
Our Brian started out as a wire frame made from ordinary garden fence wire which I purchased at a DIY store. I shaped it so that the whole of the goose from head to toe was supported by the wire.
I started wrapping the wire at the head end with strips of polyester wadding. I chose to use wadding as it is really 'sticky' and so adheres to itself when wrapping it tightly around the wire but also it is relatively cheap in comparison to wool roving. The wadding I used was quite thick and resulted in a 'springy' layer that built up quickly. 
Alternatives: you can use wool roving from the outset. Our Dutch Texel Roving is a cheap alternative (and a little less lofty) or if you want to stay with British wool start with our Ryeland Roving which is that is perfect too.
I quickly realised that simply wrapping the wire frame with wadding would not be enough as the large body needed bulk quickly. I overcame that problem by making a large 'parcel' of wadding to fit inside the wire 'belly' 
Alternative: use any wool scraps, polyester pillow filling, an old jumper or similar to create a large ball. You can tie it together with wool yarn or wrap it with wadding strips or wool roving to keep in a tight shape. You can also use stuffing wool or core wool such as our Shetland wool batts.
Now I was able to continue wrapping the whole of the frame including the belly with wadding. I was quite surprised and excited how instantly I could see the 'goose' shape emerging. 
At this point I found that the legs were pointing the wrong way and I had to turn the neck round. Simple!
Once I built the base layer with wadding I changed to wool. I used our locally sourced Ryeland Roving which is a lovely lofty soft and bouncy stranded wool that is perfect for wrapping around large as well as small armatures. We have also used this on our dormouse!
Alternative: a cheaper option would be our Dutch Texel
Inside the body I put a leaflet of the Circus programme where Brian the Goose last attended, just for sentimental reasons..... Oh look a goose is born!!
And on I go with wrapping the roving around the frame and starting to stab the needle into it as I go. I have to be careful where the wire is just under the surface of the wool and this is the beginning of breaking many needles.
Next were the legs: I found that the bright orange merino roving that I chose for this was too slippery to just simply wrap around the garden wire. I used pipe cleaners to wrap around the legs and feet so that I had something for the wool to grip onto. I could have also used masking tape or florist tape.
Alternative: Our Fox Orange Variegated wool batts
is great for the legs and feet as it already slightly 'dirty' looking with the darker fibres running through it. Although it is a batt it is just as easy to wrap around the wire and a lot less slippery!
True to a goose's leg's anatomy I separated the garden wire into the fibula and tibia and wrapped those initially individually.
Then on to the foot. Phew, to be honest I started to realise that the legs were going to be the most challenging part of the goose and needed lots of time and attention to detail. Something I lack on both counts!
I used the wire frame to accentuate the toes and built up wool between the toes for the webbed feet. By the time I was adding white claws I had also wrapped the tibia and fibia together with orange wool roving but still so that I was able to distinguish between the two bones. I also added wisps of brown to take away from the very bright clean orange as probably no goose would have squeaky clean legs and feet and certainly the real Brian did not! You don't have to do that if you are using our Fox Orange Variegated wool
I can definitely confirm that the legs took a lot of patience, needle felting and attention to detail but it was well worth it. Once both legs and feet were finished I proceeded to add PVA glue. Adding glue means that the fluffy appearance will disappear and the finish will look a lot more realistic. It is also an extremely messy affair and uses a lot of glue on large animals like this. The aim is to add so much glue that it saturates the wool but is not dripping wet. 
On Brian it took a good 24 hours before the legs were dry and I had to find a good place for him to stay in a stable position (excuse the upside down goose!)
I changed over to Shetland wool to continue building layers onto Brian. The Shetland is a lovely white wool and one of the whitest I know. This worked really well for a goose colour.
Then I started work at the opposite end now only using the Shetland wool.  It took little extra work to finish the shape of the head but before I started working on the beak I researched close up photos of geese beaks and was surprised to find that they are not only orange but also bright and light pink. Quite a contrast in colours! I felted a separate beak and needle felted it on once it was the right size, shape and colour. It took little work to blend the beak into the head and here you can see that I already put the eyes into the goose as well. I used blue glue-in glass eyes and if you look carefully you can see that the black of the iris is oblong. One of the real Brian's trademarks. I achieved this by using a black permanent marker drawing on the flat side of the eye. Before putting them into place I added a little blue wool which made the glass eyes more vibrant. You could use our medium blue wool batts. After glueing the eyes in I needle felted an orange ring around the eyes.
I continued to 'fatten' Brian up including giving him a proper tail and undercarriage. I also covered the beak with glue exactly as I did with the feet.
Brian turned out to be a handsome chap and you can see that he was definitely a hand or even an armful of stately poultry...
In the summer 2016 Brian spent some time at Gifford Circus (for old times' sake) and he earned himself a rosette which he shows off proudly when he goes on the many travels with The Makerss. He has also found a friend in our lifesize chicken Ginga Ninga and Reece the Fleece, our lifesize Lamb.
Brian with his mate Ginga Ninga. The two of them share a love and hate relationship as Ginga Ninga is quite bossy :)